News
Latest website update
02.06.2018

Output 2018
02.01.2018 Incoming working visit (military historian).

31.01.2018 Ceremony Kapelsche veer.
07.02.2018 Advisors for MMC Audio Visual.
16.02.2018 Photos and article provided to the Lincoln and Welland Regiment magazine.
18.02.2018 Release 'The battle for Kapelsche veer-Mistake after mistake-Monument and information shield'.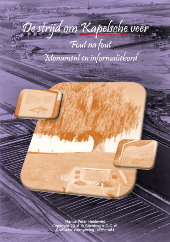 06.03.2018 Visit to adopted grave in Margraten.
03.05.2018 Guided tour Kapelsche veer.
04.05.2018 Ceremony Kapelsche veer.
30.05.2018 Release V.O.G.W.-newsletter.
02.06.2018 Attending the farewell reception of alderman J. v. Groos.