shop
There is only one publication in English in our shop.

It is possible to order:

Reference book
'The Battle for Kapelsche veer - Casualties'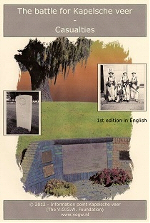 Edition: 2017 Size: A4 Pages: 20
Pages: 80 gram / printed in black & white
Covers: 160 gram / printed in full colour
Protection sheets (front and back): 250 gram / transparant
Binding: plastic binding comb (21 rings)


Prize: euro 22,50 (all inclusive)

Description: lists with names (no photos) of the casualties, service numbers, units, ranks,
dates of death, and locations of the War Graves plus explanation on how research was done.

Index:
Page 1: Introduction & index
Page 2-5: 1st Polish Armoured Division
Page 6: 47 Royal Marine Commando
Page 7: No. 5 Troop (Norwegian) - 10 Inter Allied Commando
Page 8-10: The Lincoln and Welland Regiment
Page 11: The Algonquin Regiment
Page 12+13: The Argyll and Sutherland Highlanders of Canada
Page 14: The South Alberta Regiment
Page 15-17: German casualties
Page 18: Totals
Page 19: O-72
Page 20: Special thanks & sources

Would you like to order more than one booklet? No problem!
Send us an e-mail and we will make you a special offer.

Because of the high costs, we will not accept cheques for international transactions!
Please ask your bank to transfer your payment to our account IBAN-number NL55INGB0007775617 using
BIC-code: INGBNL2A (also called swift code).
Do not forget to mention the title!