young person of the year
On behalf of the Northamptonshire Yeomanry and organised by the V.O.G.W. Foundation.

Young Person Of The Year 2021

Janiek Leijtens from Waalwijk.
Category: social engagement.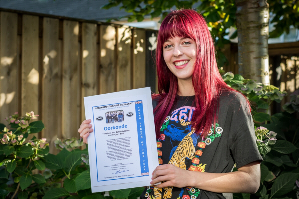 Previous winners
Mark Patrick Roeling - Michael v.d. Ven - Mandy v.d. Heuvel - Aimée de Jongh - Jesaya Mellema
Dana de Groot - Menqi Wen - Kevin Gorczynski - Amy v. Lier - Claudia Vink - Yoon Mandjes
Fleur v.d. Werken - Bibi Damen - Puck Pulles - Tim v. Loon
Jochem Brouwer - Merijn Remmers - Mandy v. Vugt.